This week's prenatal-safe Park Core exercise uses the support of the swing to move deeper in rotations and extension. Twisting and Extension are two movements that can become trickier to access in later pregnancy. Keep these valuable movements in your body for more comfort throughout your pregnancy.
In much of the Pilates sequence, extension begins in a prone position (face down). Laying on the belly certainly becomes less comfortable as baby gets bigger. However, the body still desires and needs extension for many reasons. Notably, extension also helps reduce the effects of diastasis recti.
Let's not only open the front of the body! Forward neck pulls stretch the connective tissue of the whole back line of the body: Shoulders, low back, hamstrings.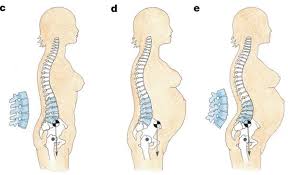 As the load in front increases, the back body shortens to accommodate. This particularly affects the spine and muscles of the lower back.
Finally, adding twists keep the ribcage flexible. Twists also stretch the chest and deepest muscle layers of the abdomen.
If your joints are lubricated and supple, you will have a better outcome for your labor/delivery and postpartum recovery. You'll also just feel better. Keep moving mamas!